California Metal & Supply stocks and distributes hard to find aerospace and aircraft metals. Our specialty is supplying Inconel / Nickel, Titanium, Super Alloys, A286, Aluminum, Stainless 13-8 15-5 17-4 17-7 , 4130, Invar / Kovar, Magnesium sheets, plates, bars, tube & tubing products. We serve major industries such as aerospace, defense, energy, oil & gas, heat-exchanger, compressor, pressure vessel, chemical & petrochemical, automotive, marine, pharmaceutical.

Our Capabilities: Same Day/ Next Day Shipping, Fast and Reliable Delivery Services, Stocking Program for Long Term Contract, Just In Time Program and Consignment Program, Worldwide Supplier to Fortune 500 Companies, Small and Medium-Sized Businesses, US Government Agencies
Approved Vendor For: Boeing, Lockheed Martin, General Dynamics, GE, Raytheon, UTC, Rolls-Royce, Honeywell, Northrop Grumman, Parker, NASA
* Inconel/Incoloy and Monel are Registered Trademarks of Special Metals Corporation and its subsidiaries.

Titanium Sheet, Plate, Bar, Forging, Casting, Tube, Tubing
6AL-4V: AMS 4911, MIL-T-9046, AB-1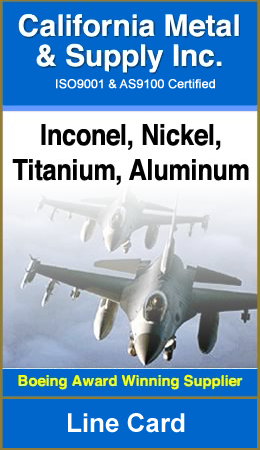 CP Grade 1: AMS4901, MIL-T-9046, CP-4, CP Grade 2: AMS 4902, MIL-T-9046, CP-3

CP Grade 3: AMS 4900, MIL-T-9046, CP-2, CP Grade 4, AMS 4901, MIL-T-9046, CP-1

6AL-2Sn-4Zr-2Mo: AMS4919, MIL-T-9046, AB-4

6AL-6V-2Sn: AMS4918, MIL-T-9046, AB-3

6AL-4V Bar: AMS4928, AMS 4967, MIL-T-9047, CP Grade Bar: MIL-T-9047

High Temperature / Nickel Metals: Inconel / Nickel 600, 601, 617, 625, 718, 722, 750, 800, 825

Hastelloy X, B, C, Haynes 188, Haynes 230, Haynes 263, HYMU 80, L605 (HS 25),

Waspaloy, Waspalloy, AMS350, N155, Greek Ascoloy, 300M, Rene41, AISI 670

Monel 400, Monel K-500, Permendur 2V, Permendur 49, Hiperco Alloy 50A

Aluminum: 1100, 2024, 2124, 2219, 3003, 5052, 5083, 6061, 7050, 7075

Alloy Steel: 4130, 4140, 4330, 4340, 4615, 4620, 6260, 6270, 8610, 8615, 8620, 8640, Tool Steel

Stainless Steel: 301, 302, 304, 304L, 309, 310, 316, 316L, 321, 347, 410, 416, 418, 420, 430

431, 440C, A286

13-8PH, 15-5PH, 17-4PH, 17-7PH, 18-8, 15-7MO, 19-9DL

Exotic: Invar 36, Invar 42, Kovar, Molybdenum, Tantalum, Tungsten, Beryllium, Phosphor Bronze,

Magnesium, Zirconium, Nickel Silver, Chromoly, Columbium